the late Muhammad Ali was of course a great boxer. But, be may be also known as a runner, as running was a huge part of his training. Many boxers consider this "roadwork," to be necessary to withstand the long gruling boxing matches.
This is why Ali is seen in a lot of photos running. There is a great quote that is often attributed to him online:
"The fight is won or lost far away from witnesses-behind the lines, in the gym, and out there on the road, long before I dance under those lights". Unfortunately I haven't been able to find the original source of this, but I really do hope it's not another of those circulating internet myths. In the end of the day, it tells a truth about training for any sport.
Cassius Clay (as he was then) running on the Julia Tuttle Causeway, Miami Beach 1961
(from Miami Archives)
Muhammad Ali was pictured training for his bouts with Henry Cooper and Brain London while in London.
"Ever the early riser, Clay would start each day of training at 5:00 am with roadwork. As he ran from his hotel to the gym[in Miami], police would sometimes get complaints that a young black man was running down the streets. In a southern city during the era of segregation, such a black male must obviously been guilty of something" Muhammad Ali: A Biography  by Anthony O. Edmonds).
Ali running in London streets, 1960s
(from Huffington Post)
Here is Ali running in Hyde Park with Jimmy Ellis in 1966
Ali, accompanied by training partner Jimmy Ellis, runs along Regent Street (left) in 1963 and near the White City gym (right) three years later
"Champ had finished his morning workout at the Fifth Street Gym when I asked him to run on the beach. He agreed and told me it would be good training for his leg strength running on the sand in combat boots. He told me he always ran in heavy combat boots so his boxing shoes would feel lighter when he was in the ring. As I took the pictures I thought of something Muhammad had said years before: "The fight is won or lost far away from witnesses-behind the lines, in the gym, and out there on the road, long before I dance under those lights"." (Telegraph)
Photo taken August 25th, 1974 by Peter Angelo Simon as he went for a five mile run with the champ when he was 32 years old.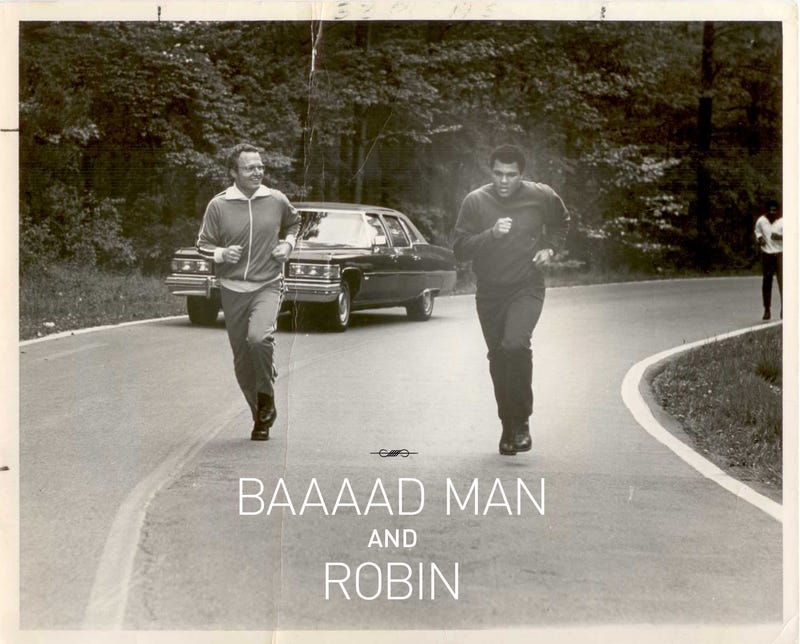 Infamous NBA heckler had the opportunity to jump in a run eith the "baaaad man" Ali. He told deadspin.com that "Muhammad Ali made me realize that being outspoken can be a good thing."
In 1996, Muhammad Ali had the honor to run with the Olympic torch. This Olypics hosted a record of 197 nations, all current IOC member nations, took part in the Games, comprising 10,318 athletes total.
(Photo: (AP Photo/Doug Mills))
(Omar Torres/AFP/Getty Images)
NBC had reported that, "After a 32-year battle with Parkinson's disease, Muhammad Ali has passed away at the age of 74. The three-time World Heavyweight Champion boxer died this evening," Bob Gunnell, a family spokesman.
My final prayers to the family and all the fans of the greatest sports figures in the world. I pray that his passing was an easy passage into his next life. Unfortunately we all must pass. I watched an amazing documentary entitled "Facing Ali" and most of his former is opponents talked about how fighting him change their lives. Not just about the aspect of boxing but being able to feed their children and their families for generations. As Muhammed Ali had many public flaws, what he did in his time that has echoed through my generation cannot be denied.